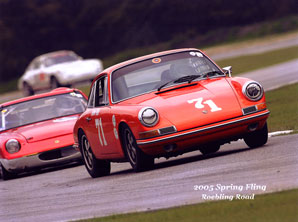 Roebling Road in Savannah, Georgia, at the SVRA Spring Fling, Susann is leading a Lotus and another 911 in the background. (2005)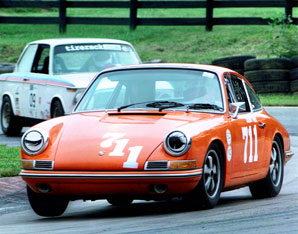 You cannot always get the number you want for your car when you register for a race. She always asks for number 7 but can add a 1 or 11 for her second and third choices, which are easy to put on the car. Sometimes someone else has that number in the race she is in. Notice the netting on the driver's side of the window. This is for the safety of the driver in case of an accident so that the driver's arm does not get damaged if the car rolls over. The other safety equipment is a roll bar or roll cage, racing seat belts with five belts that attach to one quick release buckle, a gas tank that is filled with foam and the driver wears a two or three layer Nomex driving suit, that will protect her in case of fire giving the driver 13 extra seconds to get out of the car.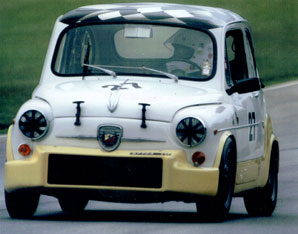 Now out on the track in the Fiat Abarth. Notice where Susann is looking – when racing you look in the direction of where you want to go next. Her next turn is to the right.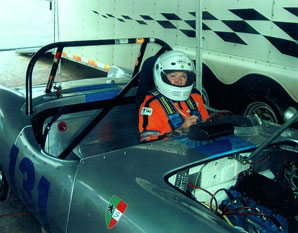 Getting fitted into the seat of an Elva Courier (the body is by Elva with an MG engine manufactured in England in the '50's) owned by Scuderia Silvestri Vintage Racing.
(Photo by Richard Oprision)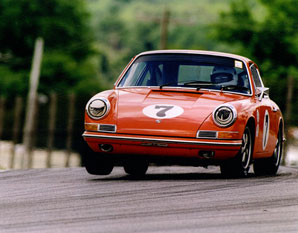 Susann flexing her 1968 Porsche 911L #7 – notice the wheel off the ground. This often happens with the early short wheelbase Porsche's when taking a corner at high speeds. Her headlights are covered with contact paper to protect the glass in case of gravel on the course. She painted them to look like they are winking.
Track – Mid-Ohio (Lexington, OH) 2004
(Photograph by R. Harrington Photography)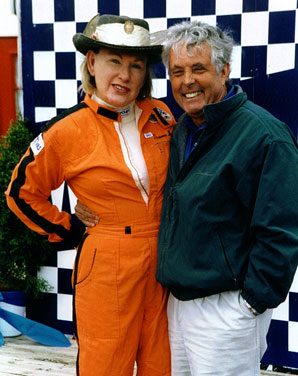 Susann Miller and Brian Redman at the Jefferson 500 at Summit Point, West Virginia.
May 2000
(Photo by David Coleman)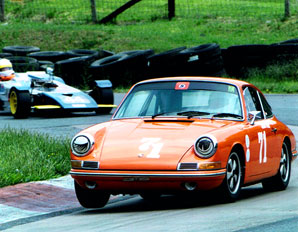 Another race at Summit Point, West Virginia. Notice how the right front tire is off the ground. The suspension is tight, when going around a corner the early 911's often lift a wheel. The driver does not feel this happening.
(Photo by R. Harrington Photography)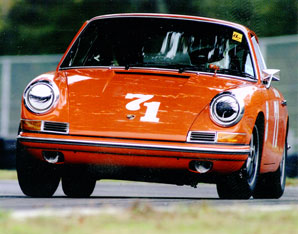 Susann in her 1968 Porsche 911L. Her headlights are covered with contact paper to protect the glass in case a rock or gravel is thrown up from another car on the course. It is easy to get a flat tire from the broken glass. It is mandatory to have the headlights covered and no antifreeze in the radiator. The early Porsche's are air cooled so that is not a problem.
(Photo by R. Harrison Photography)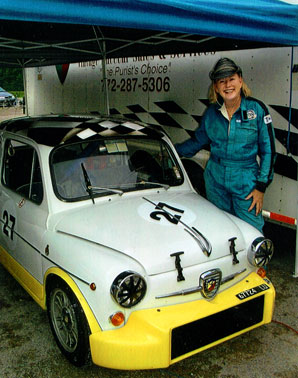 Susann before her race in a Fiat Abarth at VIR (Virginia International Raceway). 2005
(Photo by Richard Oprison)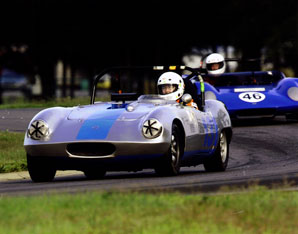 The race is with SVRA at Virginia International Raceway and Susann is driving an Elva Courier.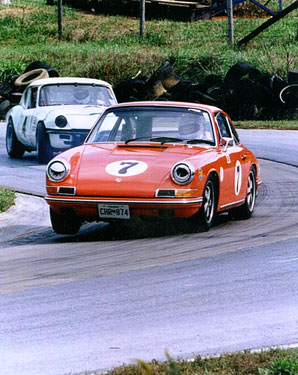 Susann often drove her car to the racetrack, notice her front license plate, as all the club racers did in the '60's. Today they are usually in an enclosed trailer.
She is lifting her right front wheel when cornering.
(Photo by R. Harrington Photography)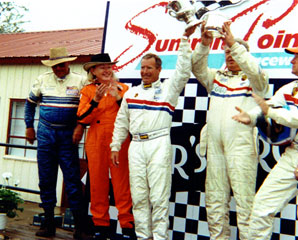 Susann is on the podium with David Coleman (L) her co-driver, Hurley Haywood (R) racing legend, winner of ten Endurance Classics, more than anyone else in racing history and all with Porsches. Next to Hurley is Robert (Bob) Snodgrass partner of Brumos Porsche in Jacksonville, FL. Susann and David were third overall. This was the first overall win for Susann.
(Photo by Lee Raskin)